Joanne has decided on transvaginal mesh to repair her pelvic organ prolapse. Here is her consent experience. "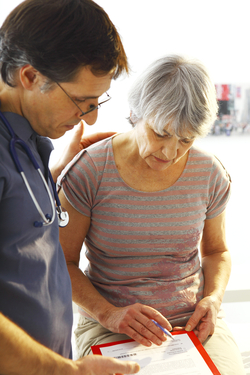 Joanne, a 49 year old woman who vaginally delivered 3 children, has been diagnosed with bladder prolapse and uterine prolapse, also known as cystocele prolapse and vaginal vault prolapse. Due to the severity of her pelvic organ prolapse (POP) symptoms, including pain, pelvic pressure and urinary frequency, she feels surgical prolapse repair is her best option, and is interested in receiving transvaginal mesh since she's heard some believe the repair will last longer.
What Are the Different Types of Mesh Implants?
"Transvaginal mesh is a type of woven fabric utilized to hold organs in the pelvic region in their proper place, in the event that a female patient is suffering from weakened pelvic muscles that allow the bowel, bladder, uterus, and other organs to move out of position."
Learn more about TVM here.
Joanne's surgeon tells her more research is needed to determine if women who receive mesh have lower rates of prolapse recurrence. The evidence is still inconclusive and it may only be a small fraction of women who need the transvaginal mesh implant. He also warns her there have been complications from vaginal mesh. According to the FDA, reports of complications are "not rare".
What's the Problem?
"These reports include problems such as pain, infection, mesh erosion (into vagina, bowel, and bladder), and recurrence of prolapse or incontinence."
Read more about pelvic mesh problems here.
Joanne reviews the surgical consent with her physician who provides her with a brochure funded by several top mesh manufacturers, and published by the American Urogynecologic Society, that answers frequently asked questions about mesh and prolapse repair; for liability reasons, he wants her to understand the current warnings about mesh. He recommends that if she decides to receive mesh it will only be used to repair her bladder prolapse. Despite the FDA warning, the surgeon tells Joanne he has implanted mesh for several years; all of his patients have recovered well.
Joanne decides to have her bladder prolapse repaired with polypropylene mesh. Her surgery goes well and the first month post-op she has mild pain that is easily controlled with over the counter medications. Approximately 4 months after her surgery she begins to experience transvaginal mesh problems including cramping and discomfort in her vagina, severe pain during intercourse and unusual vaginal discharge. She begins to wonder if she is having vaginal mesh complications, and schedules a follow up exam with her physician.
Summary of Problem and Scope
"From 2008 – 2010, the most frequent complications reported to the FDA for surgical mesh devices for POP repair include mesh erosion through the vagina (also called exposure, extrusion or protrusion), pain, infection, bleeding, pain during sexual intercourse (dyspareunia), organ perforation, and urinary problems. There were also reports of recurrent prolapse, neuro-muscular problems, vaginal scarring/shrinkage, and emotional problems."
Get more information about transvaginal mesh here.
Maher, C., Feiner, B., Baessler, K. & Schmid, C. (2013) Surgical management of pelvic organ prolapse in women. Cochrane Incontinence Group 30 APR 2013
American Urogynecologic Society voices opposition to restrictions on transvaginal mesh (2013) Contemporary OB/GYN, Retrieved from here.
Social Media Tags: vaginal mesh, fda warning, mesh complications, polypropylene mesh, transvaginal mesh,