There are no best practice protocols regarding the treatment of mesh related pudendal neuralgia and it is treated by only a handful of doctors nationwide. "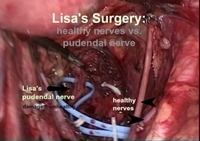 Historically the management of pudendal neuralgia was only available at a select few centers throughout the country. The reasons for this is that pudendal neuralgia was quite rare, often overlooked, and under diagnosed by the medical community. There are only a few doctors in this country who have received the advanced training in the management of this disorder. Even fewer have the advanced surgical training. A great number of physicians do not have a base understanding of the pudendal nerve and are unaware of pudendal neuralgia. In addition, because of the complexity of care in taking care of these patients is has been recognized that there may be a need to employ several specialties to manage an individual patient using a team approach. The team might include a urologist, gynecologist, neurosurgeons, neurologist, physiatrist, and physical therapist. Coordinating such a team is often logistically difficult and not economically possible. Current treatment consists of medication management, physical therapy, CT guided diagnostic and therapeutic injections, and surgical decompression with or without intraoperative monitoring of the main trunk or branches of the nerve.
On July 13, 2011, the Federal Drug Agency issued a warning to patients and the medical community that serious complications for vaginal repair for pelvic organ prolapse (POP) are not rare and there was no clear evidence that transvaginal POP mesh repair was more effective than non-mesh repair. The FDA believed that the risk of complication is directly related to the mesh and not due to surgical error. Statistical analysis by the FDA revealed that pelvic pain occurred in 5.5-8.5 percent of patients and painful sex (dyspareunia) occurred in 1.6-7.3 of patients. In essence the FDA has determined that pelvic pain is an unacceptable postoperative outcome caused by the vaginal mesh.
Pelvic pain related to vaginal mesh may be caused by a variety of mechanisms including the formation of adhesions and scar tissue, malpositioning of the mesh, and by tension or direct compression of the nerves in the pelvis. Some patients with post mesh pain also have pain due to severe spasm of the plevic floor muscles. Nerve pain (neuralgia) is a potential pain source for patients who do not respond to surgery. A study of ten patients in France with pain as the reason for re-operation, six of the patients had symptoms of obturator neuralgia and two presented with pudendal neuralgia. Obturator neuralgia is diagnosed by clinical symptoms which consist of sharp, burning, or electric pain in the groin or front of thigh. Pudendal neuralgia is a well described clinical diagnosis which consist of pain in the territory of the pudendal nerve, which includes pain worsened by sitting, no testable sensory loss, and improvement is found with a pudendal nerve block. This is part of the Nantes criteria. Pain relief was excellent following a surgery to decompress the affected nerves in the obturator neuralgia group but poor in the pudendal neuralgia group.
A recent Michigan study at a large academic referral center revealed that three out of every ten patients who get mesh surgery for the primary reason of pain will have persistent pain following removal of the mesh. A logical next question to be answered is why is there such a high failure rate? Is it the mere consequence of long term scar tissue and traction on key structures? Is it a failure of the treating physician to recognize the symptoms of a pudendal neuralgia or obturator neuralgia? Both answers may be right. Further studies are necessary. It appears that full removal of the mesh is necessary to flush out the problems regarding ongoing pain in patients who have received mesh.
Tragically, there are currently no recommendations and protocols regarding best practices regarding mesh removal for pain relief. The Michigan study indicates that there is a high failure rate for surgical removal of vaginal mesh and it appears that any patient being considered for mesh removal with pain should be evaluated preoperatively for the presence of either pudendal and obturator neuralgia preoperatively. If there is a clinical concern that neuralgia is present, the patient may be best served at a center with physicians trained in the surgical capabilities to do a neurolysis. This surgeon should be one who surgically removes all the mesh, and one who better understands the patient's clinical response to this intervention, as opposed to a doctor who sees the patient for the first time after mesh removal who complains of continued, post-removal pain. In those patients there will be a clinical concern that there is retained mesh as a potential source of pain and would likely require another procedure to inspect for retained mesh. If the pudendal neuralgia complaints continue after full removal of the mesh then the patient will require an incision in the buttock for the pudendal release. It is my opinion that any patient with symptoms of a pudendal neuralgia should be operated by a physician with these specific skills to allow for a full understanding of the clinical course and results of interventions. Unfortunately, there are few centers in this country capable of managing pudendal neuralgia.
For more on pudendal neuralgia visit the vaginal mesh website TVM123.com
Source: vaginal mesh lawyer web resource
Social Media Tags: pudendal neuralgia, painful sex, pelvic pain,